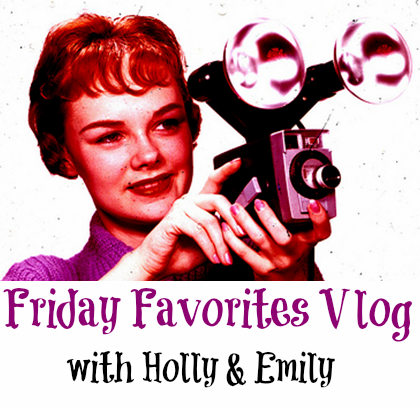 Hi Everyone! It's finally time for the Friday Favorites Vlog link-up that Holly and I have been reminding you about all week! I'm super excited to post my first vlog and hope that you'll all link up with us too!
I have to admit, I was pretty nervous recording this video, and I think I look completely ridiculous but, hey, I need to get over my fear and just do it, so I did!
Here goes nothing!
For those of you who need the questions again, here they are:
What's your name?
What's your favorite fast food meal?
What was your favorite music video on TRL?
If your house caught fire, what is the one favorite material object that you would take out with you?
What is your favorite workout?
What is your favorite food in your pantry?
What's your favorite gift that you've ever received?

So, create your videos and link up with us, have fun browsing other's vlogs!

Happy Friday All!