Linking up with Carissa today for
Misc Monday
- showing off my weekend pictures!
Cooper is obsessed with "motorbikes" lately. All because of Charlie Brown. There are a few episodes with either Snoopy or others in the Peanuts Crew riding motorbikes or doing motocross. So, since Papa Smith has a motorcycle, that was the first thing we did when visiting him this weekend, had some time on the motorcycle. While it was parked.
Then it was time to visit Papa's tractor. He loves riding on the tractor with my dad. He loves "helping him drive."
Then it was time to visit the park for cousin Larissa's birthday party!
Cooper just has to roll his socks up as tall as they'll go. Cousin Layne just stood by and watched. He tried to roll his socks up high too, but wasn't successful, as his socks were too short a more appropriate length for wearing shorts.
Fun on the slide, with high socks.
The birthday girl! I cannot believe I have a 10 year old nice! Happy Birthday Larissa Lynn! :)
Then there was time with Nana. She loves to push him on the swing. And he loves swinging with her.
I couldn't help but take this picture on Saturday night. Such a cutie pie when he's sleeping.
Now to the vlog link-up announcement!
Holly
and I are going to be hosting a vlog linky party on FRIDAY!
We thought it would be fun to take the traditional question and answer linky party and turn it into a video linkup.

We'll post instructions for you – for using an iphone or a computer.

It's so fun seeing and hearing your blog friends, so we thought we'd mix it up a bit!
All you have to do is make a short video, answering a few questions and come back here and link up with us on FRIDAY!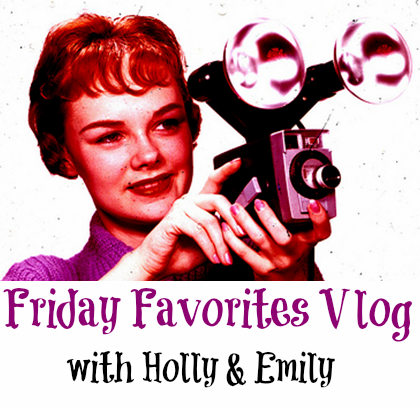 The Topic is FAVORITE FRIDAY
2.

What's your favorite fast food meal?
3.

What was your favorite music video on TRL?
4.

If your house caught fire, what is the one favorite material object that you'd take with you?
5.

What is your favorite workout?
6. What is your favorite food in your pantry?
7. What's your favorite gift that you've ever received?

Easy as pie!
Happy Monday Ladies!